LOOKING TO HIRE PARTY ENTERTAINMENT?
Mr. Jasper is a multi award winning magician who is one of the most successful family entertainer. He is funny, fast and fearless. The moment Mr. Jasper takes the stage, he owns it and stays in command of the moment until he leaves every child laughing and asking for more. Witness spectacular visual miracles happen right infront of your eyes that amazes both young and old alike.
"Both the children and adults thoroughly enjoyed the magic show. The parents were very impressed with Jasper's crowd control. It isn't easy to handle 30 over 5 year olds  and he had them behaving beautifully. We've only ever seen this level of control from their school teachers! Based on the professionalism and expertise shown by Jasper, I would not hesitate to engage Party Empire again."
– Beena Patel
Being a child at heart, Mr Jasper is always popular with children. Every kid wants to be part of his highly amusing magic act! Mr. Jasper never fails to amaze and delights the audiences. Watch as he charms the little ones with his amazing sleight of hand and being hilarously funny doing it. Mr Jasper always brings an unforgettable experience to his audiences. Having performed for countless of events, with years of experience, Mr. Jasper definately brings quality family entertainment for your celebrations. For audiences small and large, young and old, his results are the same, and his impact immeasurable.
A LA CARTE

30 MINUTES MAGIC SHOW
Jasper is best known for his magic show which makes for perfect family entertainment both for kids and adults. He will also help to host your cake cutting ceremony to make sure that you get a photo worthy moment for a lifetime keepsake!
Includes: Magic Show, FREE Cake Cutting Hosting
PRICE: $399 NETT (Usual Price: $499)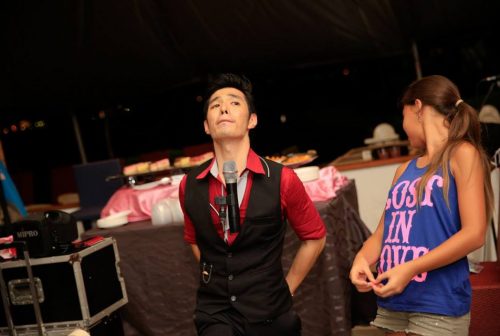 BASIC PACKAGE

60 MINUTES BALLOONS & MAGIC SHOW
A full hour of fun filled entertainment starts with balloon sculpting for everyone at the party, followed by Jasper's signature comedy magic show! He will also help to host your cake cutting ceremony to make sure that you get a photo worthy moment for a lifetime keepsake!
Includes: Balloon Sculpting, Magic Show, FREE Cake Cutting Hosting
PRICE: $489 NETT (Usual Price: $559)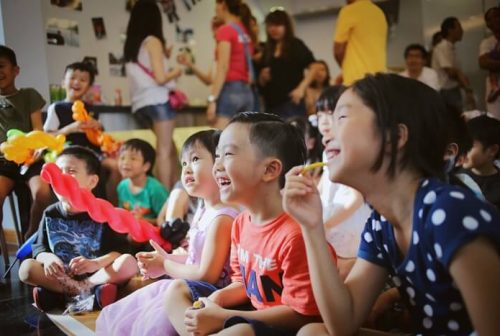 CLASSIC PACKAGE



60 MINUTES BIRTHDAY MAGIC AND GAMES SHOW
An hour of non-stop interactive party entertainment with Jasper as your host for the day! This is a fun-filled mix of action games, party songs, and of course Jasper's signature Magic Show.
If you are hoping to keep the little ones fully engaged for an hour, look no further!
Includes: Magic Show, Interactive Games, FREE Cake Cutting Hosting
PRICE: $549 NETT (Usual Price: $659)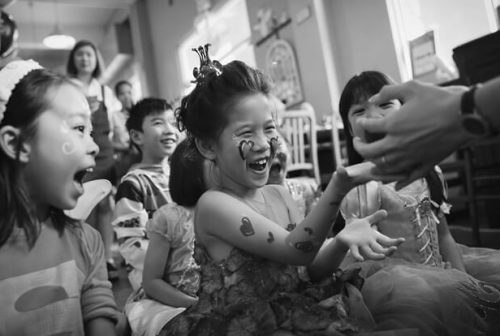 PREMIUM PACKAGE



90 MINUTES COMPLETE STRESS-FREE BIRTHDAY PARTY
An all-in-one package with balloons, games and magic that ensures your child and their friends are engaged and entertained from the moment they arrive at our party to the moment they say goodbye. This option provides you a complete end-to-end birthday party solution, leaving you free to join in the fun and be part of your child's memories from their party.
Jasper host your party for a full 90 minutes so you don't have to worry about anything.
Your child is the superstar on their special day
90 minutes of non-stop fun for all to enjoy
Inclusive and interactive party games ensuring everyone can join in and no one is left out
You get to enjoy it all completely free of stress as Freddie Fantastic takes care of it all. Even the prizes are included!
You are guaranteed a successful party with everyone having the best party ever.
Includes: Balloon Sculpting, Magic Show, Interactive Games Segment, FREE Cake Cutting Hosting
PRICE: $699 NETT (Usual Price: $859)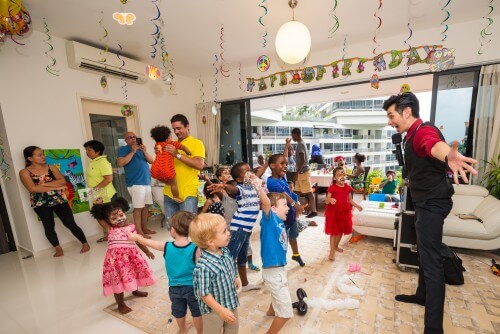 Here're some of the acts you'll witness: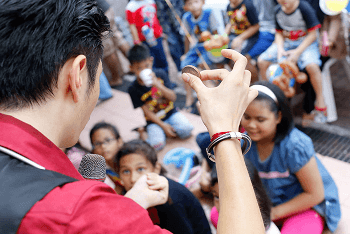 Miser's Dream Come True!
Watch as Mr. Jasper showcase a glimse of his award winning coin magic as he produces money magicially from thin air, and getting your child to do the same! Every one in the audience will be amazed when your child learns to take coins out behind their friend's ear! This highly interactive sequence will get everyone cheering for more.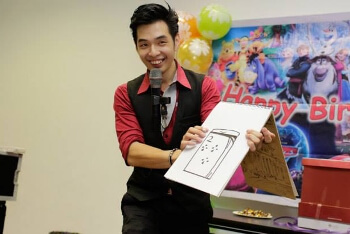 The Rising Miracle
Imagine …. an effect that was performed by David Copperfield, reenacted right in front of your eyes. Watch asJasper presents an illusion with nothing more than a drawing that will be handed out as a memorable keepsake for you or your guests. An amazing piece of magic that you'll have to see to believe.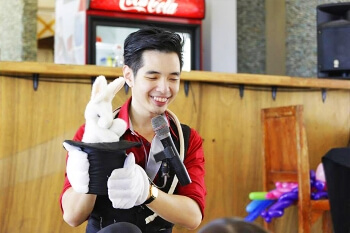 Lily the Fluffy Bunny Puppet
Lily is a hilarious show-stopper! She is a cheeky little rabbit that gets the children giggling and the adults smiling. Catch her mischievously peeking out from Mr. Jasper's top hat and stays in the limelight as she performs her own magic tricks! Everyone loves Lily the fluffy bunny and you would too!
"Almost all the parents email/ text me to recognized how their child really enjoy the magic show. As for the birthday girl, she actually saw Jasper twice before and ask specifically that she wanted him and no one else. Jasper had a tough time going home because every single kid just wanted to give him a hug once more.Really satisfied!"
– Rani Sundjojo
LET'S NOT FORGET ABOUT PARTY GAMES TOO!
A party with Mr. Jasper includes non-stop party fun, kids' party action games and lots of attractive prizes! Here are some of the games that will be played if you go for our 60 Minutes Birthday Magic and Games Show, or our 90 Minutes Stress free Party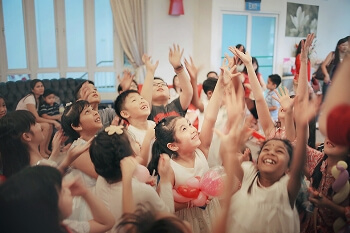 Treasure Hunting  Time to get the adults involved in the party games too! In this sequence, children are asked to collect different items with the help of their parents. The first child to bring back all items required gets a special prize from Mr. Jasper! Don't worry, everyone gets a try at it, and no one goes home empty handed!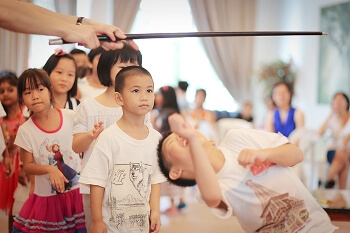 Limbo Game! It's a classic for a good reason! Everyone enjoys going under the Limbo. Matched up with the perfect Limbo song, kids will get to have a great time, and you get a great photo opportunity!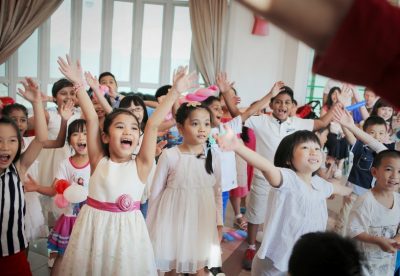 1 , 2 , 3, Action! Everyone gets warmed up with the perfect number action game! It's as simple as 1 , 2 , 3 where kids follows exactly what Mr. Jasper does when he says it. But watch out, as Jasper tries to trick you into doing the wrong actions by calling out different numbers! It's a fun activity that gets everyone moving around!
"The magic show was very good. I've actually gave your contact to 5 parents! Way to go! Very happy with the magic show. It was a real magic show instead of just making a fool of the kids! Good work. Wish it didn't end so soon. Overall a good first experience with Party Empire and my daughter enjoyed it so much that she wants Jasper at her party next year "– Melissa Low